Barry McGee Mid-Career at ICA Boston
Very cool to have Barry McGee at the Boston Institute of Contemporary Art, just a few minutes away from us. Below is an article from the Huffington Post by the Brooklyn Street Art guys Jaime and Steven. After the jump see the entire post!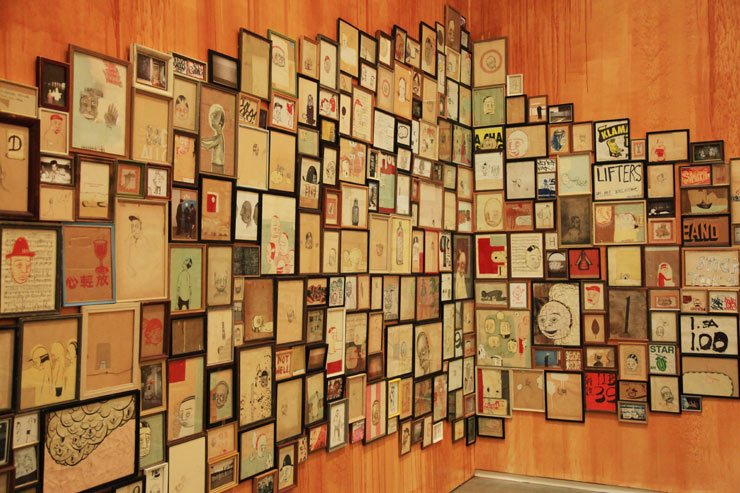 Barry McGee. Mid-career survey at ICA, Boston now on view (photo © Jaime Rojo)
Gallerist at Home: Joshua Liner
November 19, 2012, 8:25 am
Filed under:
Gallerist at Home
| Tags:
Aurel Schmidt
,
Barry McGee
,
Basquiat
,
Chris Mendoza
,
Cleon Peterson
,
Damon Soule
,
Dave Kinsey
,
David Ellis
,
Ellen C. Caldwell
,
Eric Beltz
,
Evan Hecox
,
Futura
,
Gallerist at Home
,
Greg Lamarche
,
Jose Parla
,
Joshua Liner Gallery
,
Kris Kuksi
,
Mark Dean Veca
,
Os Gemeos
,
Pema Rinzin
,
Shawn Barber
,
Stephen Powers
,
Tiffany Bozic
,
Tony Curanaj
Just four years ago, Joshua Liner Gallery opened its doors in New York's Chelsea District.  After Superstorm Sandy hit Chelsea's gallery row particularly hard, I am pleased to report that owner and director Joshua Liner opened their current show Tiffany Bozic's "Transformation" only a week behind schedule. - Ellen C. Caldwell, Los Angeles Contributor

Tony Curanaj | Pop Art Icon, 2009, oil on canvas, Tiffany Bozic | Untitled, Os Gemeos "Untitled." Photos courtesy of Christos Katsiaouni.
Margaret Kilgallen: Progenitor of The Mission School
July 5, 2011, 12:30 pm
Filed under:
Uncategorized
| Tags:
Barry McGee
,
Bay Area
,
Chris Johanson
,
Clare Rojas
,
Margaret Kilgallen
,
Mission District
,
Nadiah Fellah
,
Ratio 3
,
Rigo 23
,
the Mission School

Margaret Kilgallen, Untitled, c. 2000, Acrylic on canvas, 27 x 25 inches. Courtesy Ratio 3, San Francisco.
The Margaret Kilgallen show at Ratio 3 in San Francisco brings together over three dozen small works on paper and a handful of larger canvas pieces, all belonging to the late artist's estate. An artist best remembered for a striking impression delivered with a duality of color and scale, the works at Ratio 3 are much more quiet, intimate, and candid. Some appear like private doodles, and others like focused studies for larger works, such as collections of lips or shoes punctuating a few small pages. All are drawn with her characteristic calligraphic lines in boldly colored acrylic.
Kilgallen—who died in 2001 at the age of 33—along with fellow artists Barry McGee (her husband and collaborator), Chris Johanson, Clare Rojas, Rigo 23 and several others have earned the movement moniker of The Bay Area Mission School, referring to the Mission District in San Francisco where many of them drew inspiration and lived or worked. The style is a reflection of low-tech, subversive art making, and relies on the inclusion of found objects, graffiti, and folk art quotations. It refers to a style that arose in the early 90s, but was not coined until 2002.
More after the jump!  —Nadiah Fellah, San Francisco contributor